We flew out to San Diego for a job we were hired to photograph. It was a special Bar Mitzvah for a very special kid. You can check out that awesome Ravens themed Bar Mitzvah here!
I've had something on my bucket list since I was a kid: Visit the San Diego Zoo. I still can't believe that we got to go earlier this year and I checked that off my list! You'll find our adventures here as well as pictures from the whole trip. We literally spent less than 3 days in San Diego. We flew out on Friday and took a Red Eye flight home Sunday.
Our 6 hour travel day became a 15 hour travel day on our way out there, and then we shot a Bar Mitzvah, went to sleep, then we woke up, went to the Zoo and then later that night took a Red Eye home. All my mom and Zeke too in tow too! I know... we are nuts. But it was so worth it!!
"It never rains in San Diego" they say. LIES. It rained almost the whole time... but we didn't care, we said "we'll make our own damn sunshine" and went on adventures regardless. We stayed at La Jolla Hilton, and walked down to the famous La Jolla Torrey Pines, and checked out the hotels down there... incredible.
Enjoy the Post!! You'll find lots of fun pics!
Success! He fell asleep in my arms on the plane!
Utah... thanks Alaska... not sure why we couldn't take our flight earlier in the day. We would have been there by now!
"It never rains in San Diego".... LIES... it rained the whole time!
Look at this Pinecone my mom found!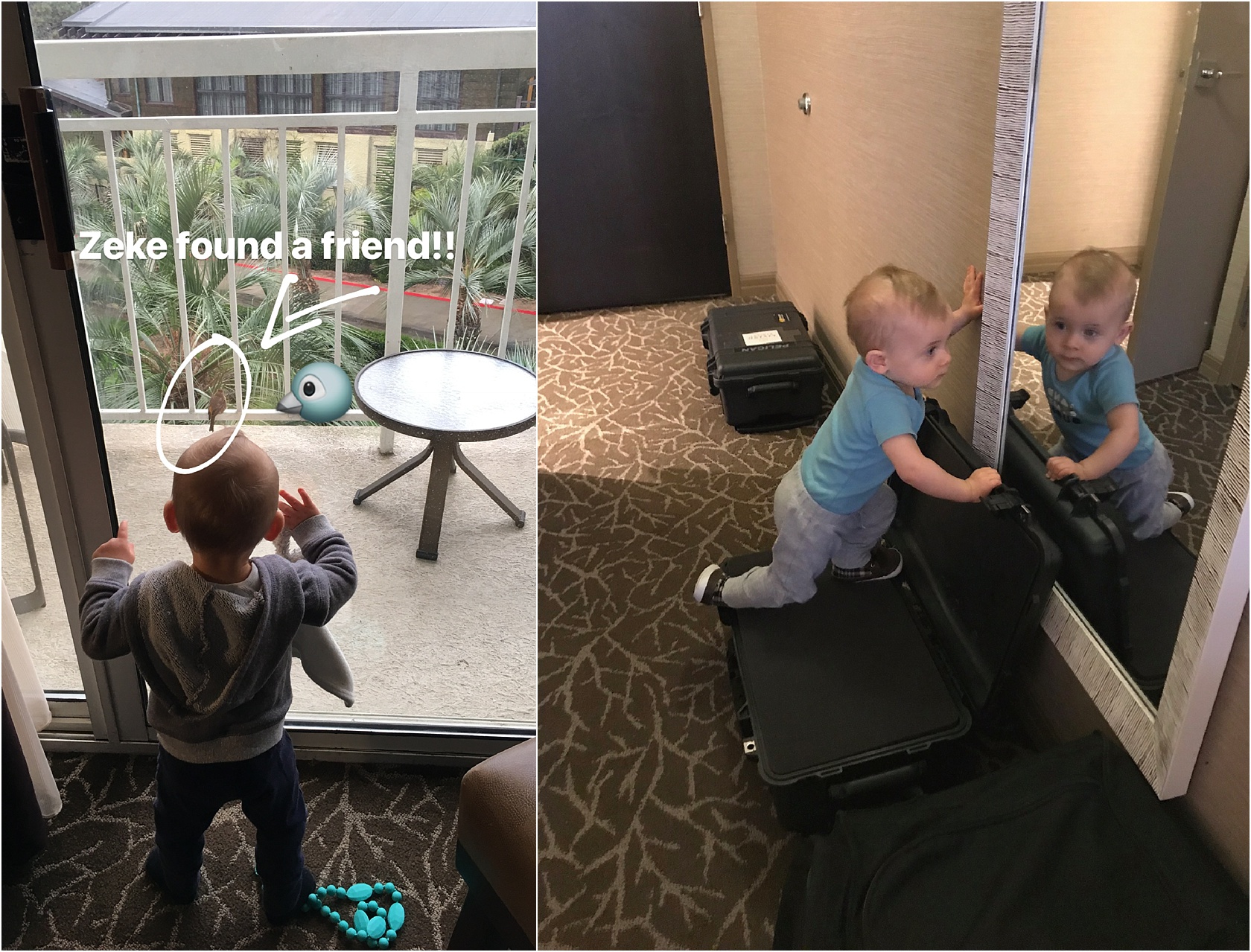 Our second hotel to literally store our gear and to shower at after the zoo before our red eye flight.
Someone needed a nap after walking so much... we needed a nap actually!

Oh... My... Gosh... Grizzlies are no joke. I'll keep walking thank you.
Poor Guy, we saw him get stung by a bee!

Just Bumming around... with his blankey.
The Newest Addition to the Zoo! A baby Hippo!

Aww, this guy doesn't belong in San Diego... he needs snow, like real bad. He was so dirty from the mud!
Oh no, Dasher left the North Pole!
Patrick gets MVP... the San Diego Zoo is actually really really hilly... it's a massive Zoo, and Patrick helped this guy get up the hill since it was a huge hike!
This is me trying to eat on the red eye flight back to Baltimore... trying not to wake my kid!
Zeke LOVED his snow leopard! He was givin' him cuddles!